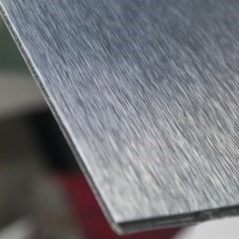 Mechanical Finishes
Chemical Finishes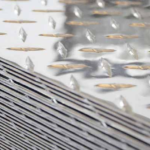 Rolled Finishes
Aluminium Surface Finishes
In most scenarios, the natural finish and surface quality of aluminium can be used for many applications without any added surface finishing. However, there are cases in which aluminium requires different finishes. Finishes for aluminium are designed to either preserve an existing surface or promote a new surface that is more visually or functionally appealing. The primary reasons for a different surface finish could include aesthetic improvements, colour requirements, improved resistance, increased reflectivity, better surface structure and improved electrical insulation properties.
At Aluminium Trading, we offer a variety of different aluminium finishes, each with unique properties suited for specific applications.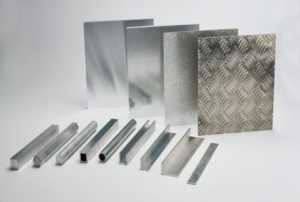 As a metal, aluminium is susceptible to mechanical finishing processes commonly applied to other metals, and can usually be used with the same equipment without any disadvantage. However, to fully exploit the more unique characteristics of aluminium alloys, specialised equipment is desirable.
Generally, mechanical finishes apply processes which alter the metal by abrasion such as polishing, grinding, blasting, buffing or processes which apply the texture by mechanical force such as embossing or shot peening. When compared with steel, abrasive aluminium finishing processes need to take the relative softness of the aluminium into account, thus, lubrication and low application pressures are required.
A mill finish is the standard finish that aluminium has when it comes out of the mill. There is a wide range of uses and applications for a mill finish. This is the natural state of aluminium and no mechanical or chemical finishing has been added to the surface.
A Brushed Finish gives aluminium a distinctive look, as it retains some but not all of its lustre and is given a patter n of very fine lines parallel to the brushing direction. For this reason, it is commonly used in decorative applications.
Brushed finishes are popular in small appliances and whiteware, and feature largely in architecture and automotive design.
Chemical & Other Finishes
Chemical finishes rely on specific chemical reactions and are distinctive with aluminium. There are five principal classifications of chemical finishing
Chemical Cleaning – Treatments used to remove soils and oxides inhibitive to final finishing or other work operations.
Etching – Treatments designed to produce various degrees of surface mattness. Can also be a pre-treatment for other processes.
Chemical Brightening – Treatments designed to produce a high surface lustre.
Conversion Coatings – Treatments which promote surface films desirable for functional or aesthetic purposes.
Immersion Plating – Treatments which deposit a metallic surface coating.
Aluminium Trading offers the following chemical finishing options which may include one or more of the above-mentioned classifications:
Rigidised, Treadplate & Tread Bright