Aluminium Tread Plate is a lightweight, functional and decorative surface material with a regular patter n of raised lines or diamonds on one side. The material is non-slip, durable and a very economical solution for corrosion resistant and non-slip applications.
The added texture reduces the risk of slipping, making Tread Plate an ideal solution for stairs, catwalks, walkways and ramps, particularly in an industrial setting. Its typical non-skid properties make Tread Plate ideal for use on ambulance interiors and on footplates of trucks, machinery and plants. Due to the attractive high polished finishing of Tread Plate, it has also become a popular decorative material, used on walls floors and counters.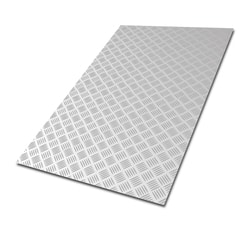 Aluminium Tread Plate 1050 H14
| Thickness (mm) | Dimensions (mm) | Mass/Sheet (kg) |
| --- | --- | --- |
| 1.5 | 2500 x 1250 | 15.203 |
| 1.5 | 3000 x 1500 | 21.892 |
| 2 | 2500 x 1250 | 19.437 |
| 3 | 2500 x 1250 | 27.906 |
| 4.5 | 2500 x 1250 | 40.609 |
| 6 | 2500 x 1250 | 53.312 |
Aluminium Tread Plate 5754 H16
| Thickness (mm) | Dimensions (mm) | Mass/Sheet (kg) |
| --- | --- | --- |
| 1.5 | 2500 x 1250 | 15.203 |
| 2 | 2500 x 1250 | 19.437 |
| 3 | 2500 x 1250 | 27.906 |
| 4.5 | 2500 x 1250 | 40.609 |
| 6 | 2500 x 1250 | 53.312 |
Benefits of Aluminium Tread Plate
The numerous benefits of this versatile material are clear to see:
Slip resistant – The raised 'bar design' provides extra traction on stairs, ladders, ramps, tailgates, running boards, catwalks, loading bays and other general surfaces even when wet, iced, or covered in snow, chemicals or mud. 'Embossed firetruck quality' or 'FTQ Tread Plate' even meets industry safety regulations for slip resistance in America. In South Africa, industrial users of the product most frequently refer to it as 'checker plate', 'checkered plate' or 'chequer plate'
Corrosion resistant – Aluminium Tread Plate is made of corrosion resistant aluminium alloy, particularly 5xxx and 6xxx alloys. These alloys provides years of service even under the toughest conditions, including marine locations. Marine Tread Plate is most frequently referred to as 'diamond plate'.
Hygienic – Tread Plate is very easy to clean and wipe down, and is rather resistant to the possible damage other materials would receive from corrosive cleaning agents. This makes it ideal for food processing plants, caterers, restaurants, kitchens and industries where frequent sanitizing is required.
Protective – Due to its strength and natural oxidisation, aluminium Tread Plate can prevent damage to doors, walls, corners, partitions etc. It is also a great protector of bumpers,  truck beds, tailgates, and off-road vehicle bodies.
Attractive – With various raised designs and finishes available, the product is ideal for use in architecture, furniture making and applications where aesthetic appeal is most important. Bakkie canopies, firetrucks, shop counters and walls are also applications where Tread Plate is commonly used for aesthetic appeal.
Aluminium Tread Plate, due to its versatility, is known by many different names across the many industries its used in. Other names for Tread Plate include:
diamond plate
treadplate
checker plate
checkered plate
chequer plate
chequered plate
propeller plate
vastrap
It is also known as 'Durbar floor plate' in some international markets due to Tata Steel marketing the product under that name. The term "Diamond plate" could also refer to similar anti-slip textured plates.
We are proud to have worked on projects with some of SA's largest corporate companies...